What is The Best Tankless Water Heater in 2015?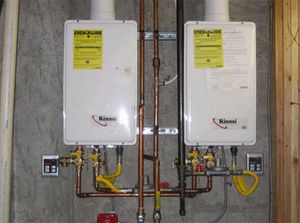 Tankless water heaters are much different than the traditional water heater most people are accustomed to. Tankless heaters take up much less space, most are the size of a suitcase, and they are more convenient in the fact that they eliminate some of the risk of tank failure. The idea behind tankless water heaters is quite simple. Thet use a heating coil to heat water on demand rather than having a tank full of hot water continuously like a traditional water neater. Tankless water heaters are usually a pricier upfront investment but they can save a significant amount of money over time due to power and water usage.
When selecting best tankless water heaters there are a few factors a consumer should consider. Upfront cost is a concern to many looking at tankless water heaters because their prices can be significantly higher. The amount of hot water needed for the household should also be considered. Larger households may need to install more than one tankless water heater to keep up with the demand of the home. Consumers should compare maximum flow rate to determine the best tankless heater, for their needs. It's also important that a buyer consider the warranty period provided by the company. Many of the pricier brands will offer a much longer warranty which may pay off in the end.
Ecosmart has great ratings and is one of the most popular makers of tankless water heaters. They offer a lifetime warranty for residential use and stand behind their product with great customer service according to reviews. They have several different models with the ECO 27 being very popular. It's one of the biggesttankless water heaters on the market. The ECO 27 can help the user save up to 60% on their water heating costs. The ECO 27 is an electric model and it requires 200 amp electrical service. At an outside temperature of 37 degrees it can heat around 3 gal/minute. In significantly higher outside temperatures it can heat up to 6 gal/minute.
The ECO 27 is also very energy efficient. While it's not actually energy star classified it does offer a 99.8% rate of efficiency. It has self-modulating technology to control the water heated so that there is no wasted energy. The ECO 27 is very small and can save up to 12 cubic feet of storage space compared to a traditional tank heater and can be mounted on the wall. It offers a digital temperature control with 1 degree increments so the user can set the desired temperature. It has a maximum water temperature setting of 140 degrees and a minimum of 80 degrees
If you're looking for best tankless water heater for their home, the ECO 27 from Ecosmart would be a great choice. It is the only brand on the market that offers a lifetime warranty when the unit is installed professionally. It has a great flow rate that would work for most homes and,has an easy to set temperature control. The Ecosmart brand allows the consumer to save up to 60% on water healing costs which will likely lead to the unit paying for itself over time.
To be informed of the latest articles, subscribe: